Computerized Operations Rooms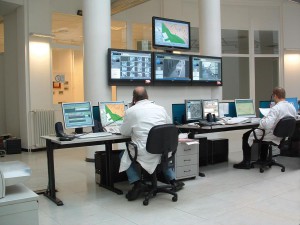 COR is a multifunctional operating unit created and developed by Sismic Sistemi srl. COR manages communication between different networks. Thanks to our devices, radio users distributed over a wide area are able to communicate using different radio technologies (eg. DMR/GSM-GPRS, PMR/DMR DMR/TERTA). Each Sismic Sistemi software package is tailored to meet individual client needs. Complete computerization of all emergency calls. COR provides different management services, such as Dispatcher Functions, Radio Locaizations, GPS Navigation and Call Recording.
The network environment is based on IP technology. It also works on WAN network or generic internet connections. The radio audio is converted into a VOIP signal and sent from server to client and viceversa. This technology allows flexibility and remote control on the network, The Network Protocol is available on request to create Customized GUI (Graphic User Interface) or web interface.
This COR – Computerized Operations Room is linked to a computer network and fully integrates the following functions:
radio and telephone communications with audio recording and archiving
completion of computerized form
vehicle radio-localization by the use of GPS satellite receivers
staff shift management
events recording and statistical data elaboration
operative software for law enforcement management
COR is compatible with every kind of radio system (Analog, Digital, TETRA…) and can be integrated with video surveillance systems. An evolutionary Black-Box is installed in every car with GPS radio-localisation to grant continuous and automatic visualisation of vehicles and portable radio within a selected area over the geo-referred cartography and to check the run (KM, gasoline consumption, standstill timesand route times of the cars) effected by squad cars. COR can look for every kind of vehicle or portable radio and can also choose the visualisation scale or associate vehicle coordinates with stored events.
Every vehicle is equipped with a keyboard and a display for sending and receiving messages linked to a GPS satellite receiver.
Sismic Sistemi COR is modular and can be modelled either for big or small sized law enforcement agencies. In Italy Sismic Sistemi srl has installed more than 120 COR in the most important Italian local Police forces (Rome, Florence, Ferrara, Parma, Pisa, Siena, Ravenna, Trieste, Pordenone, Teramo, Ascoli Piceno…).